LOSE YOURSELF IN LIGHT AND COLOR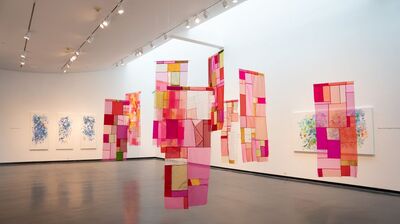 Step into an artist's garden
of paintings and textiles at
Creative Pinellas

Oftentimes in life, what the soul really needs is pure, unadulterated beauty.

You can find it in the work of Cuban American artist Yolanda Sánchez, on display in the exhibition "Out of Eden" at the Gallery at Creative Pinellas through April 16. read more>

OUT OF EDEN Exhibition
The Gallery at Creative Pinellas


2211 Walsingham Rd




Largo

,

FL

33778





Courtesy

Tampa Bay Times
---
OUT OF EDEN: JANUARY 19 - APRIL 16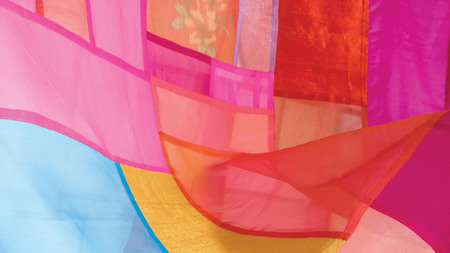 OUT OF EDEN
January 19 - April 16, 2023
Opening Reception
January 19, 2023 6 p.m. - 8 p.m.



The Gallery at Creative Pinellas




2211 Walsingham Rd




Largo

,

FL

33778





Cuban American artist Yolanda Sánchez brings her nature-inspired art to the Gallery at Creative Pinellas with a new exhibition entitled "Out of Eden." This is the first time that her textile work and her paintings are shown together. Her textiles are created using the traditional Korean Bojagi wrapping technique while her fabric choice and color are anything but traditional. Her artwork is full of lush, vibrant colors that reflect the landscape surrounding the Gallery at Creative Pinellas and all of Pinewood Park. This exhibition will take you on a creative meditation of natural beauty.

read more>

Will you see that the world is really quite beautiful? read more>
---
COME SLOWLY - EDEN! MAY 12 - JUNE18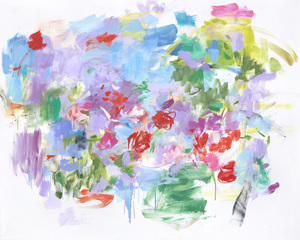 Come Slowly - Eden!
New Work by Yolanda Sánchez

Kathryn Markel Fine Arts, New York, New York
May 12 - June 18, 2022

Kathryn Markel Fine Arts is pleased to announce an exhibition of new paintings by Yolanda Sanchez. This is her seventh solo exhibition with the gallery.

Titled Come Slowly - Eden!, Sanchez draws the name from an Emily Dickinson poem about the intoxication of flowers and fragrance in Eden. And inspired by a Henri Matisse quote, "there are always flowers for those who want to see them" Sanchez says, "Flowers have long been a central theme for me and are evidence of my deep-rooted relationship to the natural world, informing my overall approach to image-making." see works
---
YOLANDA SÁNCHEZ: The Earth Laughs in Flowers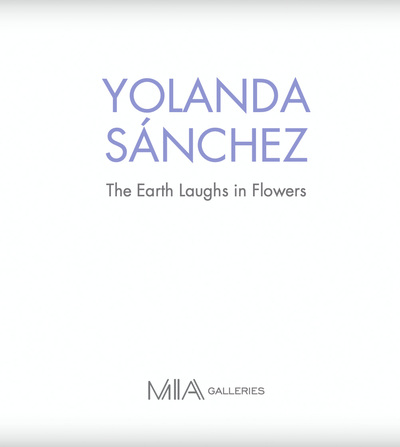 Online exhibition catalogue with essay by Anne Swartz, Ph.D. now available online! click here
---
YOLANDA SÁNCHEZ, ABSTRACT ARTIST ART IS ABOUT BRINGING JOY AND BEAUTY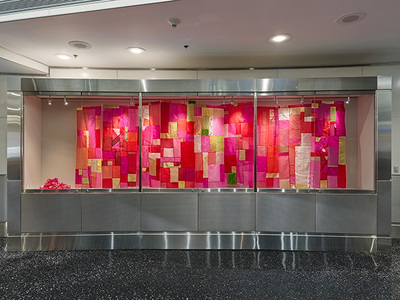 When you ask abstract artist Yolanda Sánchez what reaction she hopes to evoke when one views her work, she quickly answers — joy and beauty. Sánchez says, "For you to have a moment of contemplation; a moment that stops you. We all need to have a little joy and beauty in our everyday lives. Joy, it's very simple. Color brings you joy."
read more>
---
MIAMI INTERNATIONAL AIRPORT EXHIBITS "THE EARTH LAUGHS IN FLOWERS"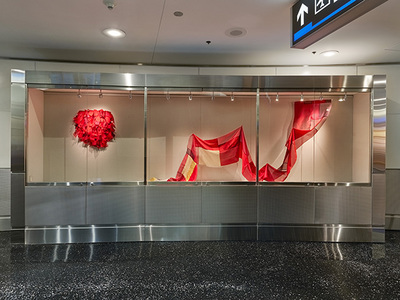 As travelers walk near Miami International Airport's gate D29, Miami-based painter
Yolanda Sánchez
invites them to also
walk
through an imaginary garden of Korean-inspired, translucent fiber constructions in luscious, vibrant colors with
The Earth Laughs in Flowers
, the latest exhibition at MIA's "The Eye Has to Travel" Gallery.
read more>
Español>
---
Yolanda Sánchez at MIA Galleries

The Earth Laughs in Flowers
Yolanda Sánche

z



MIA Galleries
Concourse D, Near Gate D29
Post-security
November 2021 – March 14, 2022

Miami-based painter Yolanda Sánchez offers an invitation to awaken to beauty through translucent fiber constructions in luscious, vibrant colors that take viewers through an imaginary garden.

Bojagi, a traditional Korean wrapping cloth created by piecing scraps of fabric, artfully re-stitched into functional forms, provides the framework for this site-specific installation. The place of Bojagi in Korean culture was established through folk beliefs that suggested that to have something wrapped is equal to having good fortune. It is an art form in its own right.

Sanchez's Korean-inspired Bojagi textile work extends and interprets the basic structure of Bojagi to a more contemporary form, varying in medium and size, and utilizing color compositions and stitching techniques that are less anchored to traditional methods.

The Earth Laughs in Flowers reflects the light and color of Sanchez's immediate, tropical environment. It is enthused explicitly by local color - a palette of rose, pinks, reds, and fuchsia - native flowers such as hibiscus, ginger, heliconia, and anthurium. Her desire is to create a sense of place and to project a joyful, playful, and even spiritual atmosphere. Whether in painting or textiles, Sánchez's desire is to engage the viewer in a gratifying sensory experience that provides a moment of contemplation.
---
A BEAUTIFUL MESS: WEAVERS & KNOTTERS OF THE VANGUARD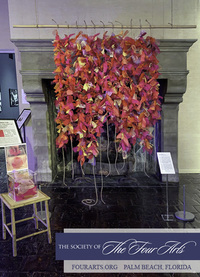 Talking Threads: Dialogues with Weavers and Knotters of South Florida
Kiss the Joy as It Flies, Yolanda Sánchez' site-specific installation, was inspired by o-mikuji ("sacred lot") or fortunes written on strips of paper visitors get at Shinto shrines and Buddhist temples in Japan. Most people keep good fortunes or tie them to nearby pine trees or structures to increase their effectiveness. Here, Sánchez creates a form reminiscent of a shrine or temple by tying strips of silk organza fabric onto jute cords with overhead knots, completing only half the work. Visitors are invited to participate by selecting a fabric strip, making a wish and placing it in an acrylic box. At the end of the exhibition, Sánchez will tie all of the deposited strips onto the work, thus completing and creating a final work.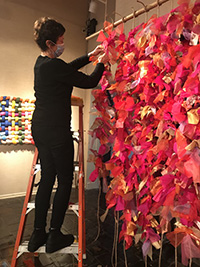 ---
SPACED OUT: TIME IS ART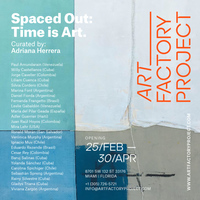 Spaced Out: Time is Art curated by Adriana Herrera
Spaced Out: Time is Art
gathers a set of paintings, photographs, collages, sculptures, and other tridimensional works created during the pandemic by twenty artists residing in Miami and four guests from different cities of the continent of America: Buenos Aires, Santiago de Chile, Salvador, and New York. The dialog between multiple visions that configure different exit doors, further stresses the point that it is not only possible but also necessary to counter the freedom of artistic imagination to the current oppressive atmosphere.
. . .
There is a single textile work on display, a piece that responds to the architecture of Art Factory Project and that, in some way, serves as a passage:
Pleasure is a Measure of Freedom,
2021, by Yolanda Sánchez. The creation of this abstract installation is made with layers of translucent fabrics in which the interplay between "rhythm, color and light" ─central to the artist─ appeals, as she herself states, to awaken our senses. "Feel more, see more, and be more present so as to arouse a sense or experience of joyfulness."

February 25 - April 30, 2021
Open by appointment only
Art Factory Project
8701 SW 132 Street, Miami, FL 33176
305.726.5721
---
"THREADED" AT THE INSTITUTO CULTURAL DE MÉXICO EN MIAMI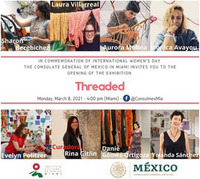 Threaded is an art exhibition presenting six stories intertwined through fiber; six narratives that are connected through color and texture. It features works by Latin-American textile artists based in Miami: Monica Avayou, Sharon Berebichez, Aurora Molina, Evelyn Politzer, Yolanda Sánchez, and Laura Villarreal. Each artist, in her own unique style, uses embroidery, weaving, sewing, and natural dyes to elevate fiber from craft into art. Thread is the medium they use to construct their own identity and re-evaluate women's role in contemporary society.

Curated by Rina Gitlin, an independent curator, art historian, and exhibition designer. She holds a Master of Liberal Arts in Museum Studies from Harvard University Extension School.

March 8 - April 7, 2021
Open by Appointment
Instituto Cultural de Mexico en Miami
1399 SW 1st Ave, Miami, FL 33130
786-268-4910