SPACED OUT: TIME IS ART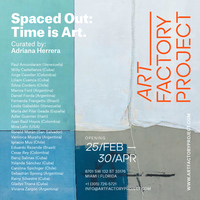 Spaced Out: Time is Art curated by Adriana Herrera
Spaced Out: Time is Art
gathers a set of paintings, photographs, collages, sculptures, and other tridimensional works created during the pandemic by twenty artists residing in Miami and four guests from different cities of the continent of America: Buenos Aires, Santiago de Chile, Salvador, and New York. The dialog between multiple visions that configure different exit doors, further stresses the point that it is not only possible but also necessary to counter the freedom of artistic imagination to the current oppressive atmosphere.
. . .
There is a single textile work on display, a piece that responds to the architecture of Art Factory Project and that, in some way, serves as a passage:
Pleasure is a Measure of Freedom,
2021, by Yolanda Sánchez. The creation of this abstract installation is made with layers of translucent fabrics in which the interplay between "rhythm, color and light" ─central to the artist─ appeals, as she herself states, to awaken our senses. "Feel more, see more, and be more present so as to arouse a sense or experience of joyfulness."

February 25 - April 30, 2021
Open by appointment only
Art Factory Project
8701 SW 132 Street, Miami, FL 33176
305.726.5721
---
"THREADED" AT THE INSTITUTO CULTURAL DE MÉXICO EN MIAMI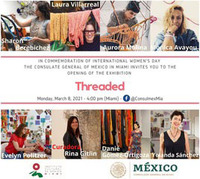 Threaded is an art exhibition presenting six stories intertwined through fiber; six narratives that are connected through color and texture. It features works by Latin-American textile artists based in Miami: Monica Avayou, Sharon Berebichez, Aurora Molina, Evelyn Politzer, Yolanda Sánchez, and Laura Villarreal. Each artist, in her own unique style, uses embroidery, weaving, sewing, and natural dyes to elevate fiber from craft into art. Thread is the medium they use to construct their own identity and re-evaluate women's role in contemporary society.

Curated by Rina Gitlin, an independent curator, art historian, and exhibition designer. She holds a Master of Liberal Arts in Museum Studies from Harvard University Extension School.

March 8 - April 7, 2021
Open by Appointment
Instituto Cultural de Mexico en Miami
1399 SW 1st Ave, Miami, FL 33130
786-268-4910
---
40 WOMEN PULLING AT THE THREADS OF SOCIAL DISCOURSE: FAMA + GUESTS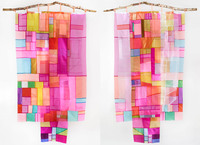 Oct 1-25, 2020
Opening Reception: Oct 3, 2020
6 p.m. – 8 p.m.
The Contemporary Art Modern Project Gallery
350 NE 75th Street
Miami, FL
---
PENLAND SCHOOL OF CRAFTS, August 9-21, 2020
Sense of Place: Exploring the Landscape through Abstraction
August 9-21, 2020

Penland School of Crafts, Spruce Pine, North Carolina

The emphasis of our class is on intimate encounter with the landscape, cultivating awareness and presence, learning to translate what we see into a sensory experience that is then transferred to a two-dimensional composition in paint. How we arrange light, color, shape and space in relationship determines a certain quality of abstraction. We will begin to develop a visual abstract language in various ways, from working in the landscape and in the studio to playing with materials other than paint. Our goal is to understand something beyond the physical elements of the landscape, using nature as a way to express something internal, creating a poetic response.

www.penland.org

---
KOREA BOJAGI FORUM MAY 13-19, 2020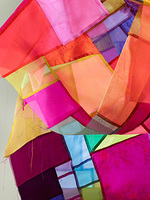 One-person Exhibition, and Lecture, Seoul, Korea, May, 2020

The Korea Bojagi Forum, founded in 2012 by Chunghie Lee, is a biennial conference celebrating the Korean tradition of the wrapping cloth as a continuing source of inspiration for contemporary fiber art.

Follow the Forum through the Forum Facebook page: Facebook: Korea Bojagi Forum

---
FEBRUARY 14 - MARCH 23, 2019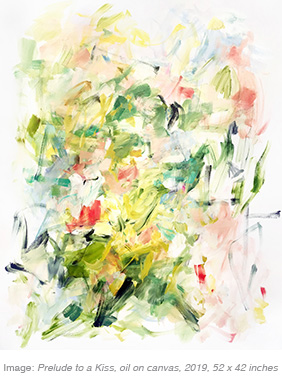 The Intensest Rendezvous
New Work by Yolanda Sánchez

Kathryn Markel Fine Arts, New York, New York
February 14 - March 23, 2019
Opening Reception: Thursday, February 14th, 6-8pm

The title of this series of works takes its name from Wallace Stevens' poem, Final Soliloquy of the Interior Paramour.

No one-to-one relationship is attempted here between painting and poetry, but simply a desire to reflect Stevens' notion of relationship in a general sense. A relationship between the outer world and the inner one, that is, "the intensest rendezvous." In this rendezvous, an experience of enlightenment takes place in which "…we collect ourselves, out of all the indifferences, into one thing." The poem is a beacon of light and hope, of those things that are good in the world. It echoes what I aspire to compress into my work: a spirit of celebration, expansion, optimism - inspiration against the dark – and in Stevens' words, "a "compensation for what is lost."
---
JANUARY 19 - FEBRUARY 23, 2018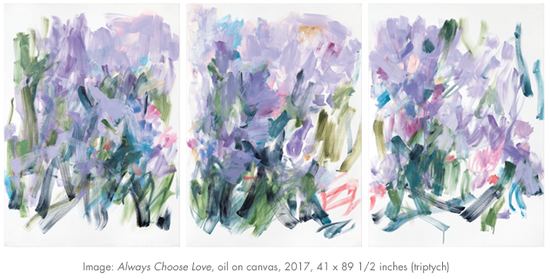 PRESENCES:
New Work by Yolanda Sánchez

Melvin Art Gallery
Florida Southern College
111 Lake Hollingsworth Drive
Lakeland, FL 33801
863.680.4743

Opening Reception: Friday, January 19th, 7 p.m.
Gallery Hours: M - F 9 a.m. to 4:30 p.m.
Free admission; open to the public.
---
SEPTEMBER 16 - OCTOBER 28, 2017
A Verdant Heart
September 16 - October 28, 2017

Kenise Barnes Fine Art
1947 Palmer Avenue
Parchment, NY

Opening Reception: September 16th, 6:30-8 pm
---
Yolanda Sánchez: A Surprising Path to Painting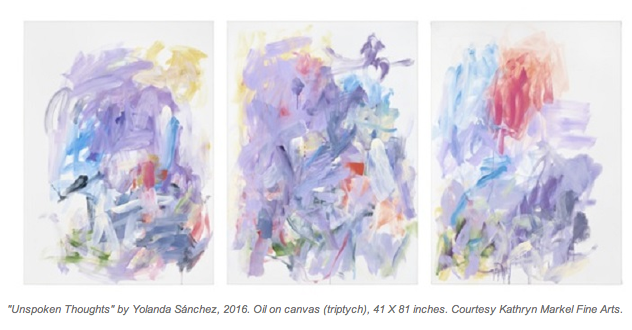 November 12, 2016 Hampton Arts Hub
by Elisa Turner

Yolanda Sánchez: A Surprising Path to Painting
---
OCTOBER 20 - NOVEMBER 26, 2016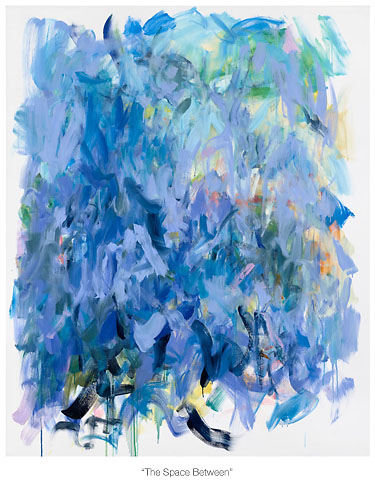 Along the Road of Dreams
Kathryn Markel Fine Arts
New York, New York

Opening Reception October 20th, 6-8pm

Yolanda Sánchez's wildly expressionistic brushwork is infused with the elegant control of calligraphy and grounded by the quiet of negative space. There is a dancer's rhythm to her work, celebrating gestural mark-making, the harmony of opposing forces, and the physicality of the paint itself. There are consistent references to nature, but each piece remains independent from narrative. Instead, Sánchez translates and projects emotional and sensory experiences. Subject and object are dissolved and replaced by a presence without form. While she is influenced by Eastern philosophy and Asian art forms, Sánchez honors her Caribbean culture while considering herself a traveler roaming across borders. The dynamic energies, respect for nature, and spiritualities that connect and transcend cultures unites her work, offering praise to the world. Her latest pieces will be on view in her show, "Along the Road of Dreams."

Read more about what influences Yolanda Sanchez's work on the Kathryn Markel Fine Arts blog.